[Imported from Whale Oil Beef Hooked on Blogger]
I wouldn't have done this article any justice if I simply pasted quotes. So here it is in all it's glory.
It's truly hard to fathom how warped the media culture is in this country. Most major newspapers are leading this morning with the 2,000th U.S. combat death in Iraq. Apparently, this is a "milestone" the media deems worthy of expanded coverage – including news analysis of the "grim" numbers, stories of family grief, and "interactive graphics" of our fallen men and women.
Buried at the bottom of all the coverage ostensibly intended to "honor" our troops is the little tidbit that, oh by the way, the Iraqi constitution passed.
Look at the treatment at The Washington Post web site, which even manages to negatively phrase news of the Iraqi charter vote:

How about above the fold at The New York Times?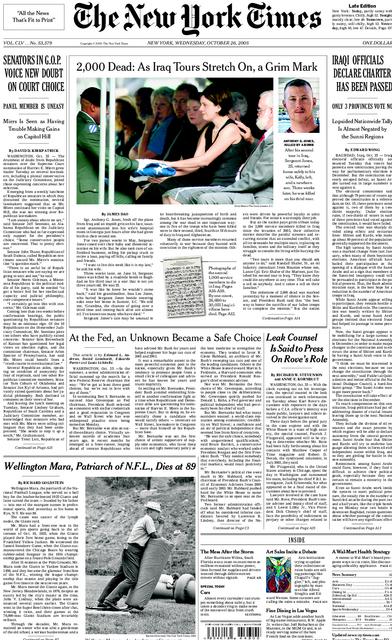 This isn't honoring our soldiers, it's using their deaths to try and negatively influence the public about the war in Iraq. You think I'm being too harsh? Ask any soldier in Afghanistan or Iraq if they think this type of coverage "honors" their fallen comrades or their mission and see what kind of response you get.
The problem is that to truly honor something means, by definition, to hold it in high respect and esteem. Members of the media may hold the sacrifices of individual soldiers in esteem but it's fair to say that, as a whole, they have significantly less respect for or belief in the causes for which those soldiers are fighting and dying in Iraq. The result is that much of the mainstream media can't separate the men from the mission, and feel that to write positive stories about Iraq or stories truly honoring our soldiers would be seen as propaganda supporting the policy (and indirectly the President).
To get a better idea of what I'm talking about, look at this:
;
The left will say this is propaganda from a right-wing rag. But the one striking difference between the Post and the rest is that at least The Post is willing to treat our dead soldiers as "heroes." The New York Times had no problem writing exhaustively about the heroes of 9/11, but when it comes to Iraq all we get are body counts.
---
Do you want:
Ad-free access?
Access to our very popular daily crossword?
Access to daily sudoku?
Access to Incite Politics magazine articles?
Access to podcasts?
Access to political polls?
Our subscribers' financial support is the reason why we have been able to offer our latest service; Audio blogs. 
Click Here  to support us and watch the number of services grow.
As much at home writing editorials as being the subject of them, Cam has won awards, including the Canon Media Award for his work on the Len Brown/Bevan Chuang story. When he's not creating the news, he tends to be in it, with protagonists using the courts, media and social media to deliver financial as well as death threats.
They say that news is something that someone, somewhere, wants kept quiet. Cam Slater doesn't do quiet and, as a result, he is a polarising, controversial but highly effective journalist who takes no prisoners.
He is fearless in his pursuit of a story.
Love him or loathe him, you can't ignore him.