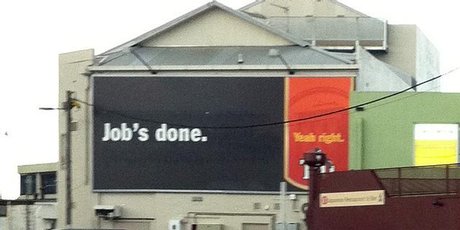 Looks like the Herald has been taking tips from Labour on manufactured outrage:
A Tui billboard that apparently pokes fun at the death of Apple founder Steve Jobs is an unfortunate coincidence, the brewery says – but it won't be coming down until Monday.

One of the offending billboards – which reads "Job's done. Yeah Right." – is visible to thousands of commuters on Auckland's southern motorway as they pass through Ellerslie.

Jobs died today aged 56, after a long battle with cancer.

Tui said Jobs' death and the choice of words on the billboard were a coincidence.

Spokeswoman Jo Jalfon said the billboard was put up on Monday and referred to the All Blacks beating Canada recently.

"At long last we've beaten the French, so that job was done – it was really sort of a play on a Rugby World Cup theme," she said.

She accepted that the billboard was "somewhat ironic or unfortunate" given Jobs' death.

"Someone at work mentioned it to me and said, 'Do you know we've got that billboard' and went, 'Oh, right, yes I see – someone could actually think it was in reference to Steve Jobs.'

"It certainly wasn't put up in any reference to him, because obviously he died this morning."

Among those who found the billboard offensive was One News reporter Ruth Wynn-Williams, who?took to Twitter?to say it was "perhaps the most bad taste Tui billboard yet".

"Unreal. Have a little respect," she wrote.
And of course they can't get facts straight saying the billboard was put up in regards to the Canada game, even though they have a direct quote stating that it referred to the win over France. This billboard has been up for nearly two weeks, how anyone could think it was to do with Steve Jobs?
And of course the only person they could find that found it offensive… well another 'reporter' how shocking!
As much at home writing editorials as being the subject of them, Cam has won awards, including the Canon Media Award for his work on the Len Brown/Bevan Chuang story. When he's not creating the news, he tends to be in it, with protagonists using the courts, media and social media to deliver financial as well as death threats.
They say that news is something that someone, somewhere, wants kept quiet. Cam Slater doesn't do quiet and, as a result, he is a polarising, controversial but highly effective journalist who takes no prisoners.
He is fearless in his pursuit of a story.
Love him or loathe him, you can't ignore him.
To read Cam's previous articles click on his name in blue.