Yesterday I blogged about a photo of Meteria Turei in her Larping heyday. One of David Farrar's travel blog commenters said:
LARP is like playing tabletop Dungeons & Dragons, but getting dressed up and playing out the part. I don't know how they handle rolling dice. Maybe they just skip it and everyone works on an honour system. "I shot you." "Yeah, fair call, I guess I'm dead."
Then I was catching up on my reading at Boing boing and lo…the solution, a complete tutorial on how to make a furry barbarian leather arm-bracer with a D&D dice-roller built into it: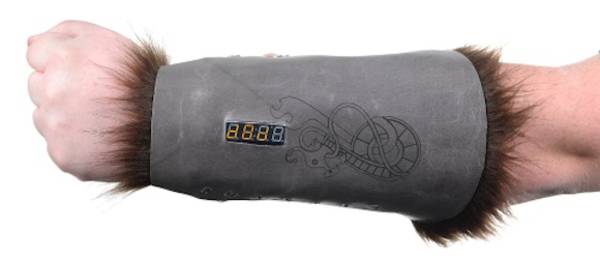 I've got nothing but respect for the DIY/open source community who take conductive thread, LEDs, and Arduino boxes and make them into marvelous little working crafts. I find it all a bit above my metaphorical pay grade. However, if there was anything that was going to convince me to learn how to rig a circuit, it would be the project that Dia forwarded to us yesterday.

It's a fur-lined leather gauntlet that can roll 100, 20, 12, 10, 8, 6, and 4-sided dice with the flip of a switch and the shake of a forearm. It combines my love of tabletop with my desire to live in the future where we all poke our wrists to get things done.
---
Do you want:
ad-free access?
access to our very popular daily crossword?
access to Incite Politics magazine articles?
Silver subscriptions and above go in the draw to win a $500 prize to be drawn at the end of March.
Not yet one of our awesome subscribers? Click Here and join us.