Volkswagon has announced the addition of an auto transmission to their Amarok non-gay ute range: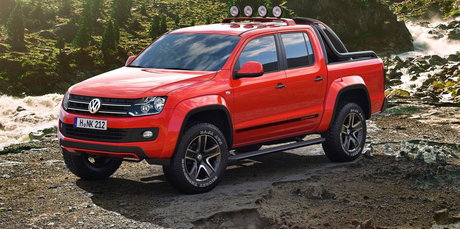 Volkswagen New Zealand's successful ute, the Amarok, finally gains an automatic transmission – giving more power, lower fuel consumption and greater towing capacity.

To go on sale in New Zealand this year, the Amarok will beat its main competitors, the Ford Ranger and the Mazda BT50, when it comes to class-leading six-speed auto transmission.

The Argentinian-built utility has a ZF-supplied eight-speed auto gearbox with Sport and manual modes, making it the first vehicle of its type to have such a high number of gear ratios.

The manual's torque output of 400Nm from 1500-2000rpm stays the same, but the automatic version will deliver 420Nm at 1750rpm.

It has a braked towing capacity of 3200kg (up from 2800kg in the TDI manual), will hit 179km/h in seventh gear and achieve combined fuel consumption of 7.6 litres per 100 kilometres and CO2 emissions of 199g a kilometre against the TDI400 4×4 manual's 7.9L/100km and 209g/km – in its most frugal state of tune.

The improved efficiency is a result of idle-stop technology included in the Bluemotion Technologies package, which also includes regenerative braking and low rolling-resistance tyres.
UPDATE: A reader emails me and says:
Cam that ute is a bit gay, maybe bicurious,?it has those gay bits on the back.

I think a sports bar or something equally gay.
The reader may be right but this ute?definitely?doesn't meet the threshold set by Craig Foss with his incredibly gay ute the Ford Ranger Wildtrak.
As much at home writing editorials as being the subject of them, Cam has won awards, including the Canon Media Award for his work on the Len Brown/Bevan Chuang story. When he's not creating the news, he tends to be in it, with protagonists using the courts, media and social media to deliver financial as well as death threats.
They say that news is something that someone, somewhere, wants kept quiet. Cam Slater doesn't do quiet and, as a result, he is a polarising, controversial but highly effective journalist who takes no prisoners.
He is fearless in his pursuit of a story.
Love him or loathe him, you can't ignore him.
To read Cam's previous articles click on his name in blue.