Like a general debate post, but about the budget.   Readers are encouraged to add snippets they find of interest throughout the afternoon in the comments below. 
I've just delivered the National-led Government's eighth Budget in Wellington.
It's a Budget that's all about investing in a growing economy, while ensuring we continue to support families and the most vulnerable people who need it most.
New Zealand's economy is performing well and we're on track for annual growth of around 3 per cent over the next few years. We're also on track for growing surpluses and falling debt.
That's thanks to the National-led Government's clear economic plan and responsible management of the books.
Budget 2016 is about building on that good progress.
Some highlights include:
An additional $2.2 billion for health. That's to help pay for more lifesaving drugs, more elective surgeries, more disability support services, and to start the roll-out of a national bowel screening programme.
A $2.1 billion public infrastructure package to invest in building new roads, schools and classrooms, and to support our thriving tourism sector.
$761 million for an Innovative New Zealand package, which invests in science, skills, and regional economic development initiatives to help grow and diversify the economy.
$652 million for an Social Investment package to help drive changes to help improve the lives of the most vulnerable New Zealanders.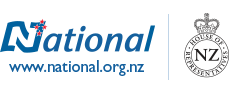 Authorised by Hon Bill English, Executive Wing, Parliament, Molesworth Street, Wellington. Please do not reply directly to this email. You are receiving this email because you have subscribed to one of our online campaigns or our mailing list, or have been a member or supporter of the National Party. If you want to share your reactions with Hon Bill English, please email
[email protected]
.
---
Do you want:
Ad-free access?
Access to our very popular daily crossword?
Access to daily sudoku?
Access to Incite Politics magazine articles?
Access to podcasts?
Access to political polls?
Our subscribers' financial support is the reason why we have been able to offer our latest service; Audio blogs. 
Click Here  to support us and watch the number of services grow.