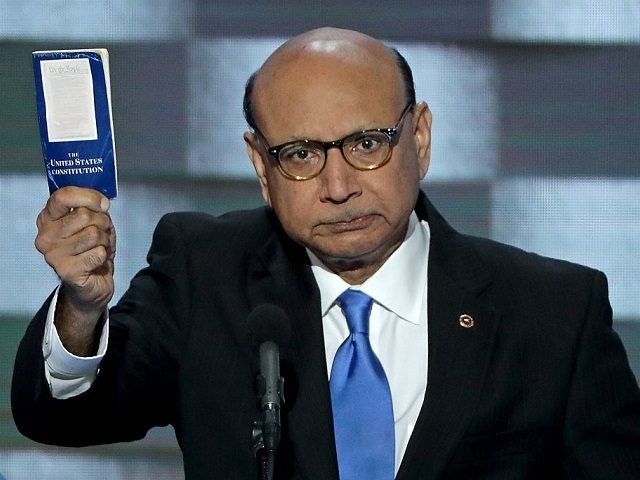 Alex Wong/Getty Images
Khizr Khan, the poster boy for the Democrats believes that the Constitution ?Must always be subordinated to the Sharia.?
Notwithstanding his war-hero son?s genuinely patriotic example, Khizr M. Khan has published papers supporting the supremacy of Islamic law over ?man-made? Western law ? including the very Constitution he championed in his Democratic National Convention speech attacking GOP presidential nod Donald Trump.

…Khan speaks admiringly of Brohi?s interpretation of human rights, even though it included the right to kill and mutilate?those who violate Islamic laws and even the right of men to ?beat? wives who act ?unseemly.?

…Khan…praised his remarks even though Brohi advocated for the enforcement of the medieval Sharia punishments

…Of course, such cruel and unusual Sharia punishments, ranging from stonings and floggings to beheadings, would be a flagrant violation of the Eighth Amendment of the United States Constitution.

Western society is built on individualism and secularism, concepts enshrined in the Constitution. But Brohi scoffs at them, arguing, ?The individual has to be sacrificed. Collectivity has a special sanctity attached to it in Islam.? ? Read more »
If you agree with me that's nice, but what I really want to achieve is to make you question the status quo, look between the lines and do your own research. Do not be a passive observer in this game we call life.
You can follow me on Gab.ai 
To read my previous articles click on my name in blue.